How to dress to suit your body shape
When it comes to dressing for our body shapes, it can often feel like an uphill struggle. We're presented with outdated concepts, trying to fit them in to today's much more inclusive fashion world. It's time to look beyond the fruit bowl and opt for a more practical approach to shaping our wardrobes to work for us.
Now more than ever, the fashion industry is embracing the beauty of all body shapes. Everyone's a little different but discovering your body shape can serve as a great guide or starting point for any new outfit purchase. Your body shape comes down to where you hold (or don't hold) your curves — then, you can dress to flaunt your shape to its fullest!
Which body shape is your best fit
As previously mentioned, everyone's body is a little different. The main focus of finding your body shape is to gain a starting point in dressing your best way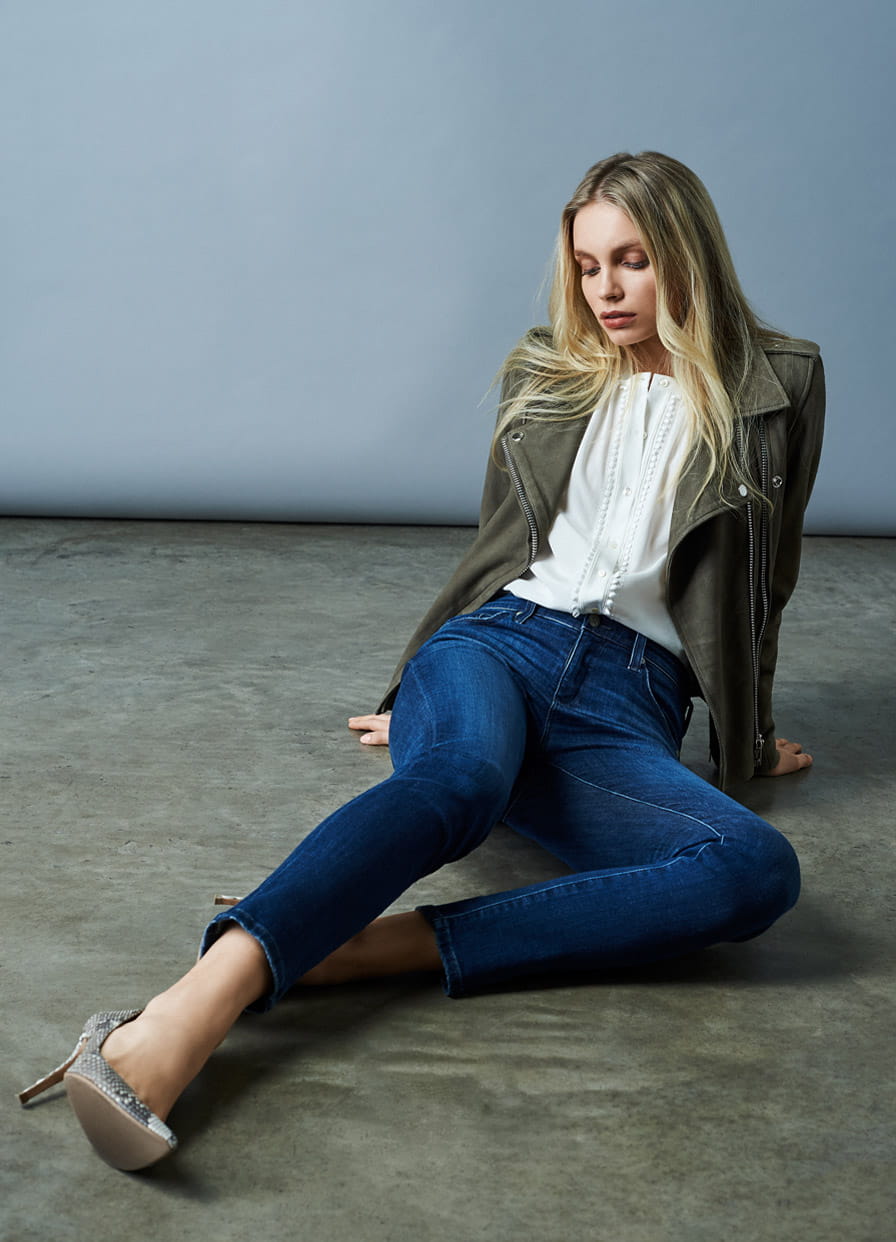 If you hold your curves at the top and middle of your body, like Angelina Jolie:
With curves sitting higher up around the bust and middle of the body, women with this body shape have the best of both worlds — enviable curves and fantastic legs. Mid-rise jeans will show off all your best features, while keeping your naturally larger waist looking perfectly curvy and not too large.
LOOK ONE
We champion AG's Prima Ankle as one of the most versatile jeans in our offering, and suitable for most body types. The subtle cigarette leg provides a welcomed alternative to a super skinny and the mid-rise is balanced out by a cropped hem which ends at the ankle.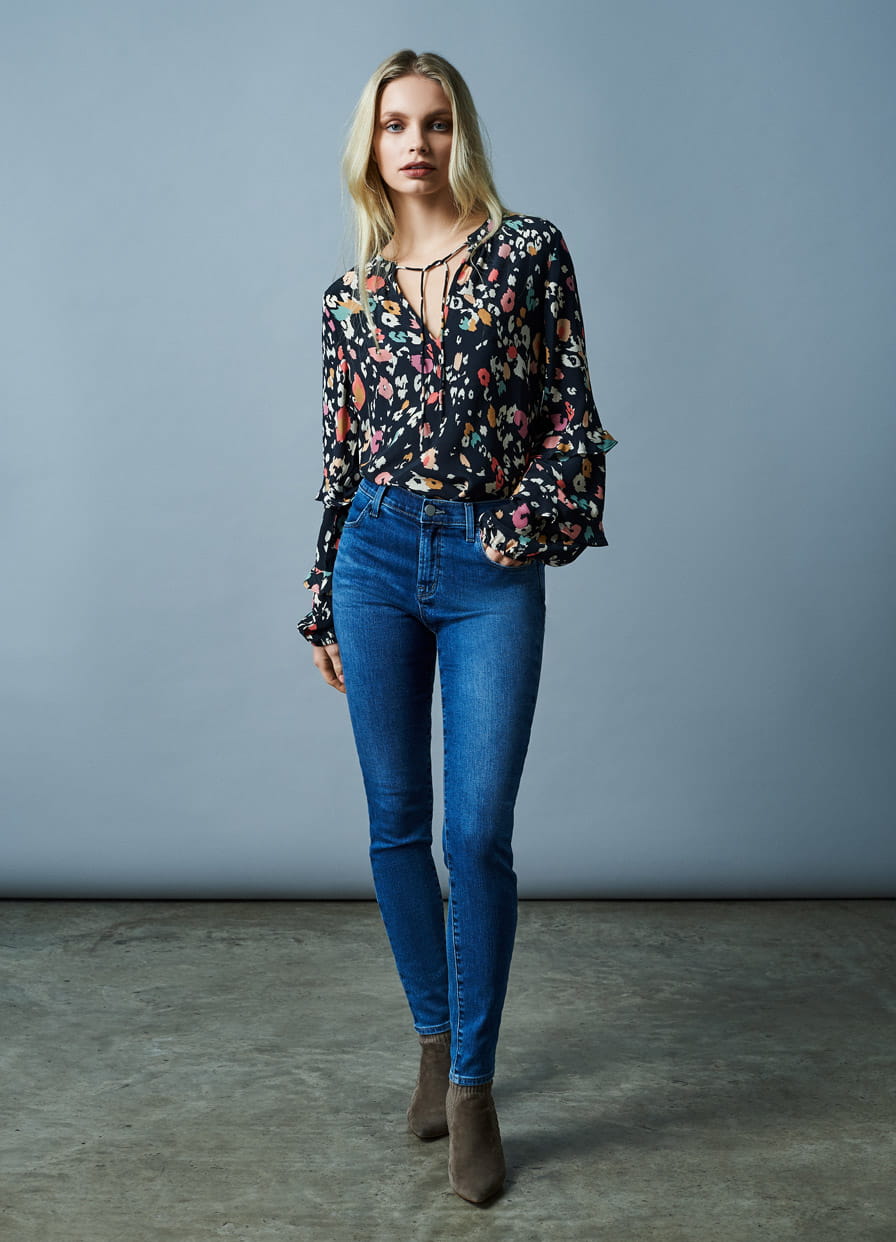 If you hold your curves at the bottom of your body, like Kim Kardashian:
A slimmer top and a wider hip area creates the luscious look of Kim Kardashian. If your body holds its curves lower on your frame, you have a number of options for dressing to highlight your amazing shape. If you prefer skinny jeans, choose high waisted jeans in order to show off the smaller waist and curvier hips. You will also look amazing in wider-legged jeans in either a high or mid-rise style.
LOOK TWO
J Brand's Maria has long been our go-to for a high-rise jean to highlight smaller waists and curvier hips. You'll be spoiled for choice with seasonal washes, from light blues to Photo Ready black. Heels and a tucked-in silk blouse is a fail-safe combination for day-to-night.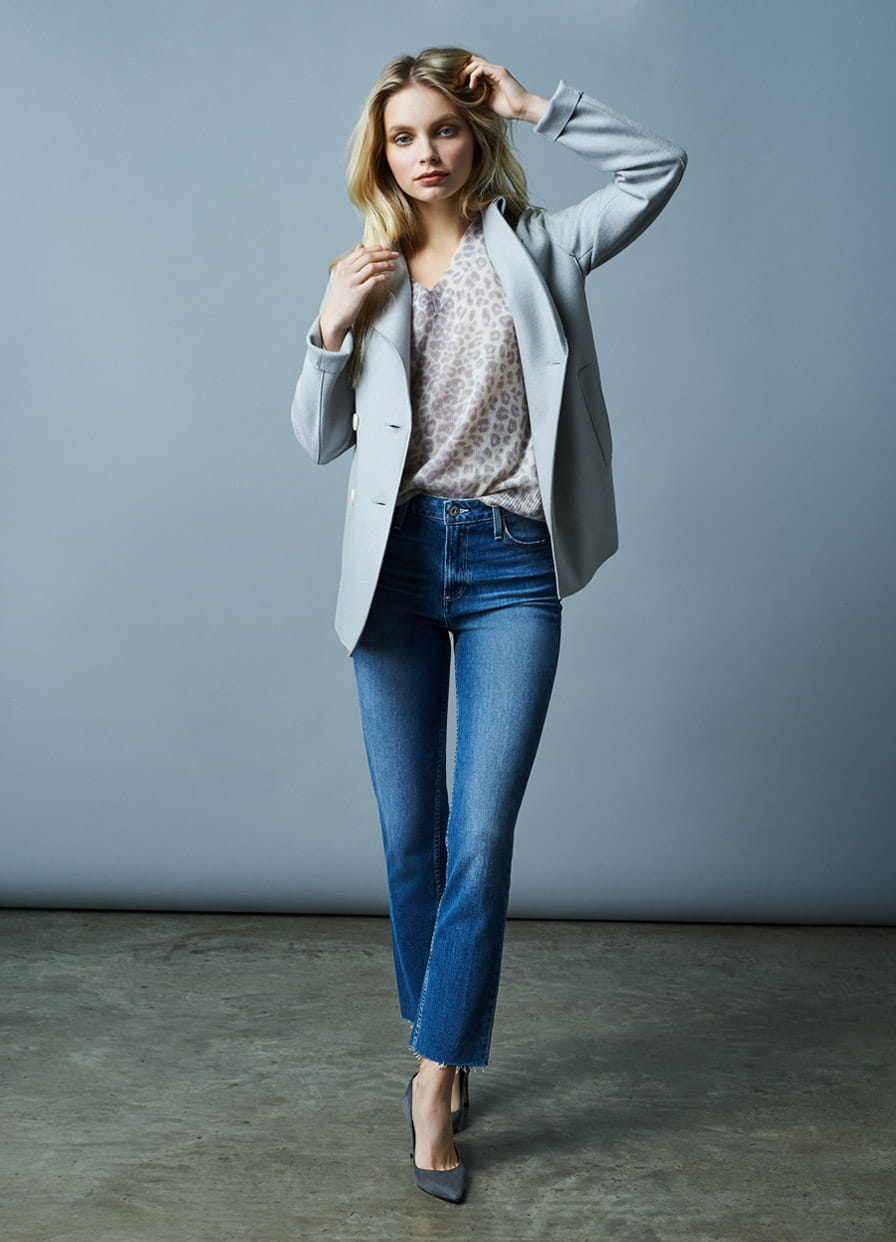 If you hold your curves equally on the top and bottom of your body, like Beyoncé:
Similar to Kim Kardashian-style body types, ladies who flaunt the Beyoncé shape have curves on the lower half of their body. But they need to dress a little differently, as this body shape also has curves held equally on the top half of the body. It's all about balancing these two areas to spotlight them in all their glory! High-waisted jeans are a great choice here, along with slimming straight legged jeans.
LOOK THREE
The Hoxton Slim is the trend-led, straight leg jean with the flattering high-rise of a Hoxton. This straight-leg jean won't swamp your frame, so is perfect for highlighting your waist whilst gently skimming, rather than clinging, to the legs. Pair with V-necklines, as these will elongate the body further, giving a hint of cleavage rather than covering up.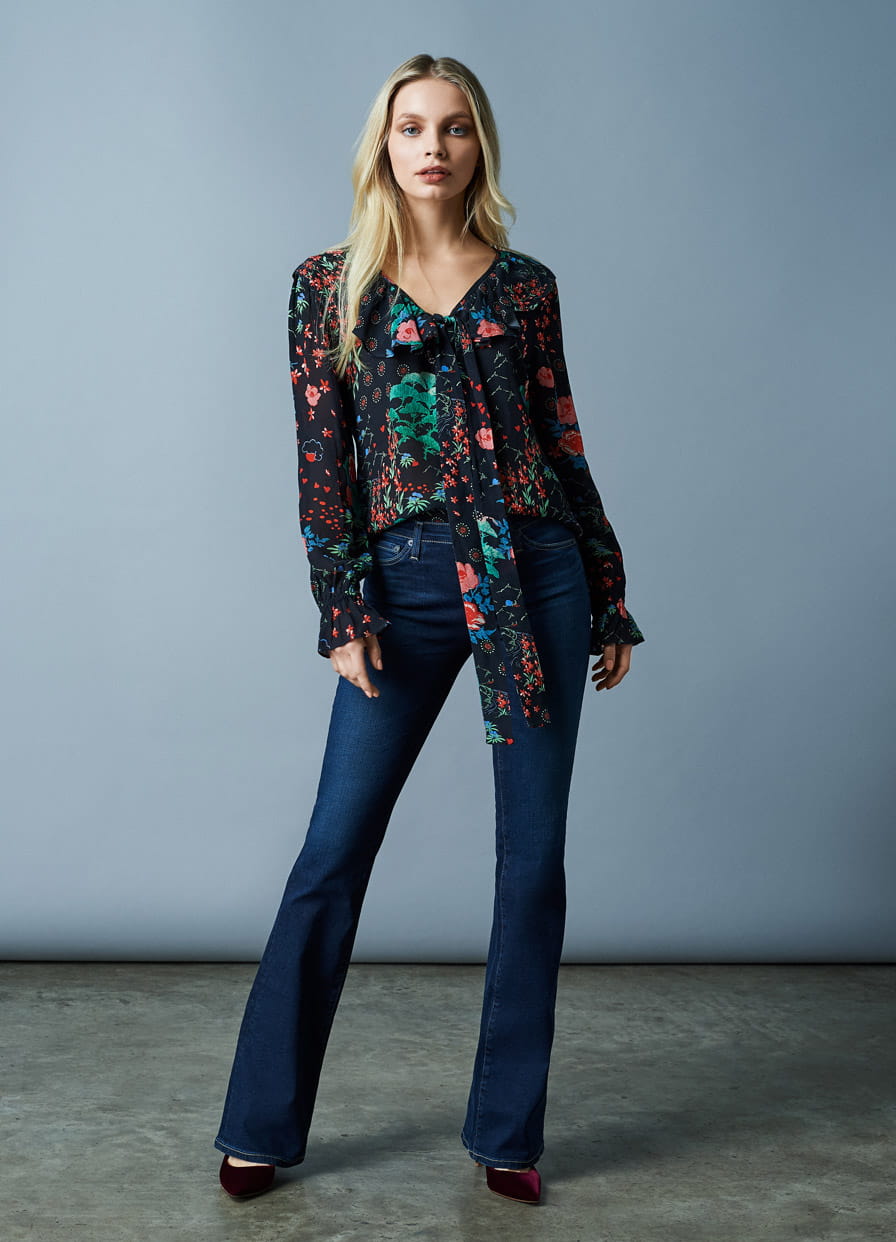 If you have a straight silhouette, like Gwyneth Paltrow:
Holding all areas of the body in equal measure, this next body shape is akin to the gorgeous Gwyneth Paltrow. With this body shape, the curves aren't focused to any particular part of the body, creating a much more streamlined shape. This means you have a lot of scope to play with shapes and styles, as well as some freedom in creating the illusion of curves. A low-rise style will tuck the middle of your shape in a little, effortlessly creating a waist with the right balance on the top and bottom of your body.
LOOK FOUR
Bootcut jeans are beloved thanks to their flattering look on everybody type, elongating your leg. We love AG's authentic Angel Boot with a subtle flare from the knee and a 34" inseam. Sophisticated washes like the indigo blue Audacious wash are designed for everyday wear when styled with printed blouses. Tuck in blouses to the waistband to create an illusion of curves.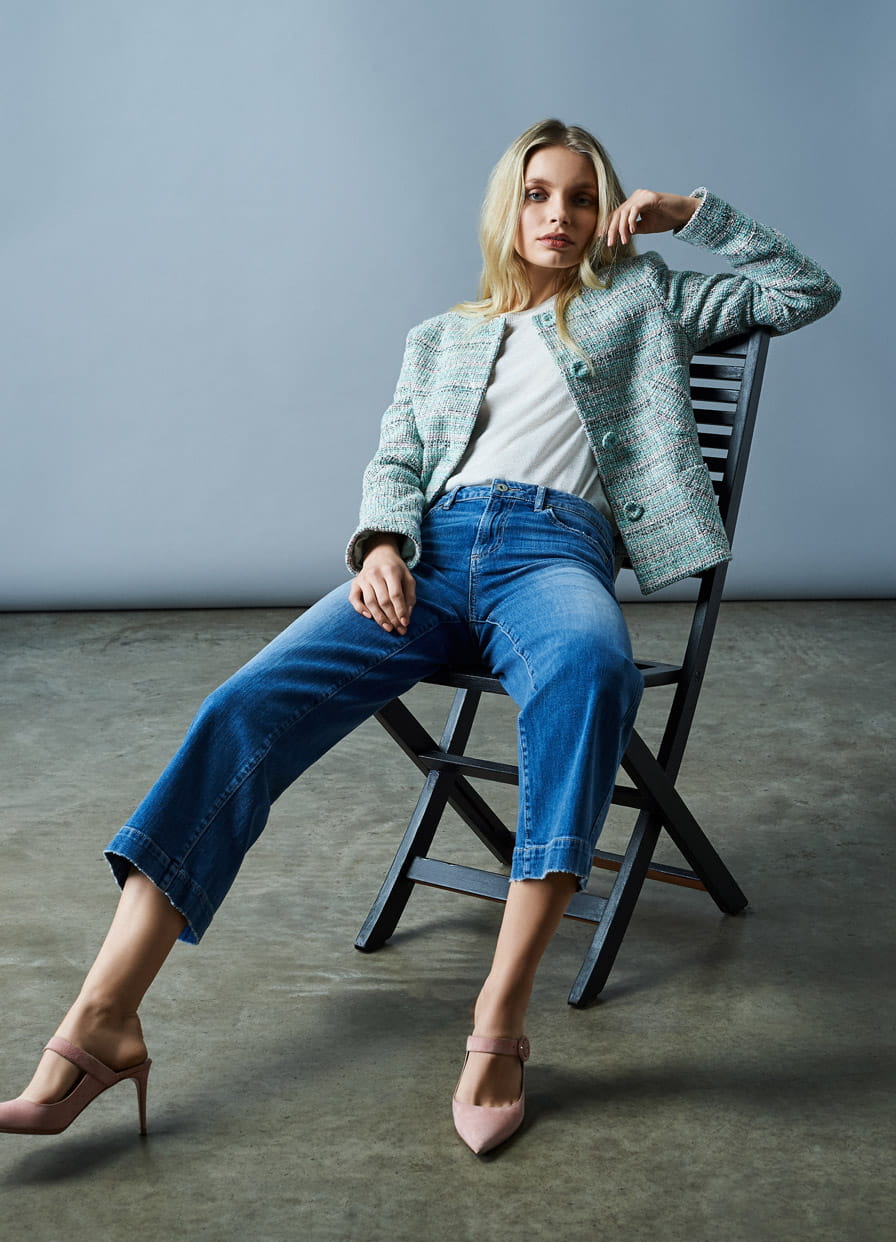 If you hold your curves on the top of your body, like Renee Zellweger:
If your body is curvier at the top, but tapers away by the middle, your body shape is like rom-com icon Renee Zellweger's. You can venture out into all kinds of designs that focus on details and embellishments for your lower half, as this will help to create balance in your shape. Mirror your great upper body shape with wide-leg or boot-cut jeans to bring your slim lower half out to meet it.
LOOK FIVE
Wide leg jean are the statement making style to get familiar with this season and at Trilogy we are backing Paige's version, the Nellie Culotte. Nellie has a sophisticated high-rise and a relaxed, wide leg which sits neatly above the ankle. We'll be wearing Nellie round the clock, balancing out her wide leg silhouette with neat, cropped jackets on top.